Spooky Halloween Septic Stories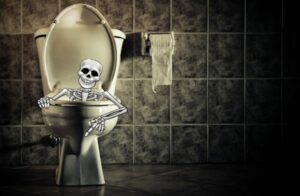 It's time for a Septic stories so keep your popcorn ready!
I have been working as a Septic cleaner for a few years now. Every job has gone smoothly without any hiccups, mistakes, or operational challenges. Unbeknownst to me, it was all about to change.
A customer called the service complaining about the septic tank. It was a pretty common complaint, so I didn't give it much thought. When I arrived at his house, the owner guided me to his bathroom. 
He had gone out with his friends last night. They hadn't seen each other for a few years, to there was lots of drinking involved. The guy doesn't handle alcohol well, so the same night or the following day predicts destructive aftermath.
I was called late afternoon, so I assumed it had already happened.
The guy tells me he was puking uncontrollably, and somehow his dentures slipped into the toilet. Without knowing what had happened, he flushed. You guessed right! The dentures are somewhere in the toilet plumbing, and now it's septic Cleaner on the job!
The septic story continues…
Septic maintenance guidelines suggest carefully dismembering the plumbing and sifting the grate. So that's what I did! The debentures had not gone so far into plumbing, and I was able to retrieve it using the Septic Tricks. 
You would not believe what happened next!
The guy takes the dentures out of my hand, cleans them under the running bathroom sink, and puts them back in! As a Septic Cleaner, it was one the most vile and grossest things I have ever witnessed! It was like nothing had happened, or he forgot where the dentures had been.
I am a chatterbox, and I was speechless. You feel the need to reiterate the events of last night but also do not want to overstep. Honestly, that broke my streak of fortunate events. 
I was later assigned a few complaints regarding septic tank blockage. I would retrieve soup bones, eye classes, needles, and sometimes…a half cut-rate. Not sure how half a rat got in there but okay…
Reasons for Septic tank back up
Septic tank backup is caused by the same causes as severe sewage problems. Sometimes underground tree rots find a way to crack the pipes and cause major plumbing issues.
Unknown objects in the system can cause severe drainage problems. Therefore, we suggest disposing of wipes, hygienic products, and toilet paper in a separate bin. Do not flush them!
Contents from the garbage disposal do not cooperate with septic tanks. The reason being they are meant for an open sewerage line. Larger chunks of food are the primary reasons for requiring urgent septic maintenance services.
The internal draining can severely overflow if dishwashers, washing machines, and showers are turned on simultaneously. When using water-related appliances, leave a slight pause in between the system does not overflow with water.
That's enough of the Septic Death Stories.
Maxx's Products offers a 30-day return policy from the purchase date. The original purchase and sales return carry no shipping fees. To contact customer support, dial 1-800-397-2384 or fill out the contact form.
For more home maintenance tips and tricks!
Check out these links and other Maxx's Products Blog Posts for tips and tricks on your home maintenance care!
How to maintain your top 3 home appliances
Does your septic tank need a pump out?
The best soils and soil types for your drain field
Why having a Septic Tank is simply better