The perfect hack to keep that toilet clean
so you don't have to!
We've got the perfect hack to get that toilet clean! If you're like most people, cleaning your toilet is a chore that can sometimes gets ignored.  Bet you didn't know that a dirty toilet can host over 3 million bacteria per square inch?!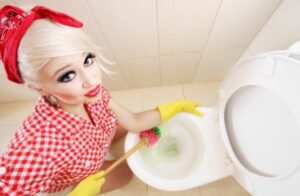 Toilet Facts:
An average person visits the toilet 2500 times a year. About 6-8 times a day. We spend about 3 years of our lives in the toilet.

Pomegranates with studs of clovers were used as the first toilet air-fresheners.

In the Middle Ages, moss and leaves were used for toilet paper.

The toilet is the home appliance that uses up the most amount of water, using up to 26 liters per flush.
The Hack!
Fortunately, there is an easy hack for keeping your toilet spotless and bacteria free! Even better it doesn't involve scrubbing with bleach or other harsh chemicals. They are called Power Pucks by Maxx's Products! These pucks are the perfect solution to keeping your toilets sparkling clean without any of the hassle. They are designed to dissolve in water leaving behind enzymes that sanitize and deodorize. Moreover, they're safe for your septic tanks too! The Power Puck® is the first line of defense to control contamination.  The use of this solid sanitizer offers 24 – 7 sanitation action. Your friends won't stop asking how your toilet bowls stay fresh and clean every time they come over.
Take advantage of this weeks offer and GET 40% OFF SEPTIC MAXX POWER PUCK TOILET TREATMENT with PROMO CODE: MaxxPower40 expiring Jul 26, 2021 
Check out these links and other Maxx's Products Blog Posts for tips and tricks on your home maintenance care!
Methane Gas & Septic Tank Dangers
What is a drain field?
Septic Owner Garbage Disposal Hacks
Just have your septic tank pumped?